This term the children are really excited about our current topic. We are learning all about the rainforest in the Democratic Republic of the Congo in Africa. We have created a roleplay area featuring a rainforest canopy and campsite area where the children can let their imaginations flow, pretending to be intrepid explorers or rainforest animals.
Also in the continuous provision area, the children have been creating their own rainforest insects. They have used plasticine, beads and sticks to create lots of colourful creatures. They have used photographs of real insects to help them to model their own. I'm sure you will agree how fabulous and colourful they look. We all enjoyed the Bugtopia visit on 1st February and this has inspired the children to make models of some of the creatures that they encountered close up!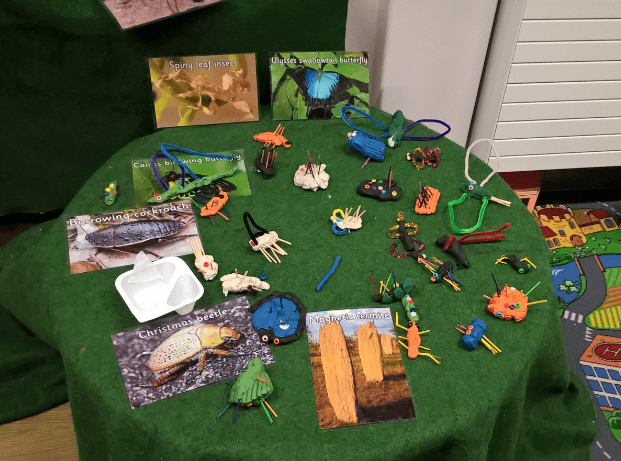 We have studied maps and atlases to locate rainforests across the World and we have discovered that they are located along the equator. We have compared the weather in a rainforest with that of the UK and discovered that rainforests don't have seasons like we do. We have learnt about some of the plants in the rainforest and compared them to plants that grow in the UK. The children have also successfully sorted plants into different categories, such as trees, flowers, grasses and ferns.
We have used the Africam website to try to catch sight of animals in their natural habitat during the day. We have also looked at animals that are familiar to us and practised using a ruler to label their features, neatly. Towards the end of the term we will be researching and creating fact files about more unusual animals that live in the rainforest.
In maths, our focus has been on subtracting numbers up to 20. The children have been using a number line to subtract and have progressed on to bridging 10 when subtracting. This is a tricky concept and we are working hard to master the skill. The children are becoming more confident using tens frames and the part/part/whole model and we will move on to using a bar model, this time to help us to find the difference between numbers.
The children have loved using the story book Monkey Puzzle by Julia Donaldson and Axel Scheffler as a stimulus for their writing. In pairs, the children have acted out a character from the story and we put this together as a class to recreate the whole story through drama. Last week we were learning how important it is to use adjectives in your writing and the children have written some amazing sentences to describe the setting and characters from the story. They have chosen some new characters and are in the process of writing their own version of the story.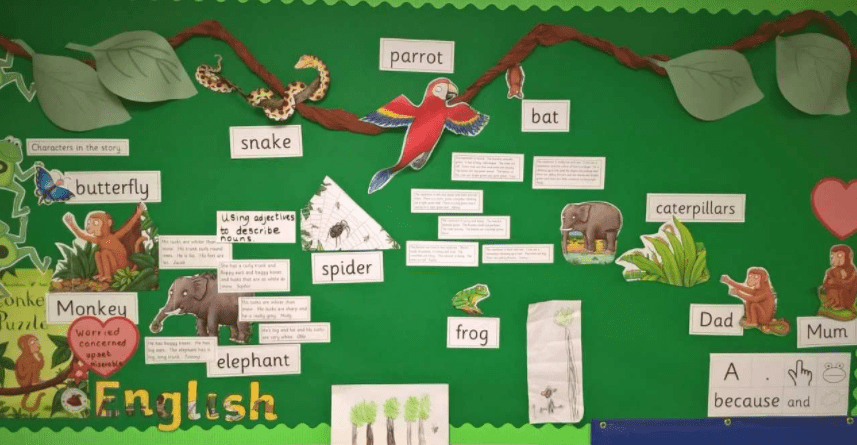 This term in PE we have been using our gymnastic skills. We have learnt how to jump safely both on the floor and off equipment and we have learnt four basic jumping movements. The children are currently working on creating a movement phrase using all four of these jumps.
In P4C the children have discussed some "Would you rather ….?" questions. They are becoming very good at listening to others and reasoning, explaining why they have chosen their answer. It has also been interesting to see children change their mind/point of view as a result of the discussions we have had.
We are all looking forward to welcoming in mums (or other relatives) on Friday afternoon.